Dear KuCoin Users,
We have recently noticed KuCoin phishing websites popping up on various search engines. For example, Google search for "KuCoin", there will be advertising spaces on phishing websites.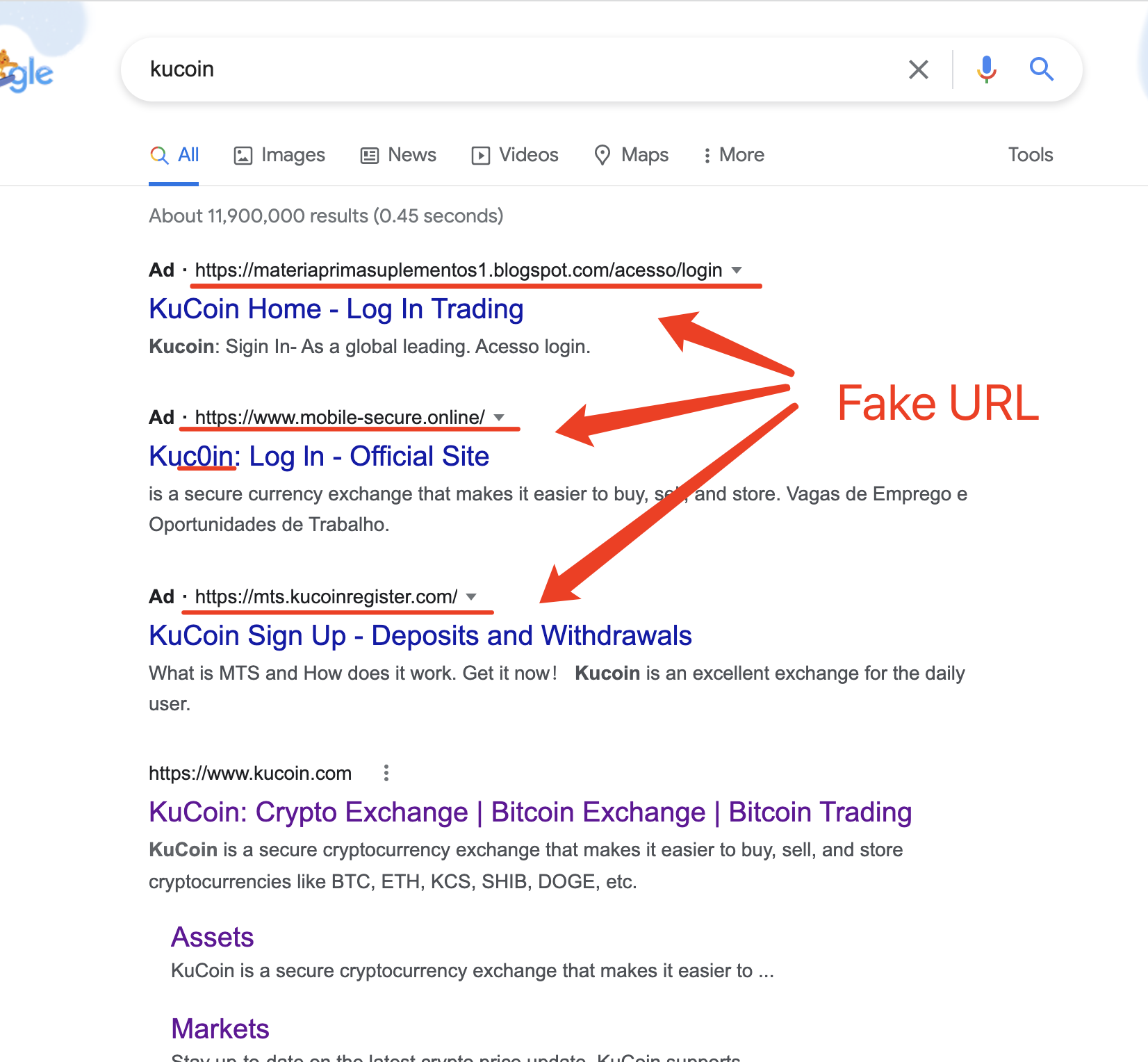 The login time will be relatively long, and it will keep going in circles and will ask for users' username, password, 2FA…
The hacker takes the user information to log in to their accounts on KuCoin and ask for the user's trading password and other information to initiate a withdrawal or create API on the phishing website.
Please note, if you receive e-mails about device/IP changing without conducting the operation, your account may be compromised. In addition, we recommend that you set up safety phase under Security Setting for preventing phishing websites.
To avoid these websites, we strongly recommend that you do the following:
a) Be extremely cautious when clicking unknown links (Examples: links shared on social networking sites, Telegram groups and search engines) with domain names similar to KuCoin's official website.
b) Always use KuCoin official websites to sign in and trade.
c) Add KuCoin's official website to your browser's bookmarks to reduce your chances of encountering phishing sites.
d) Clear your browser's cookies, and reset your KuCoin sign-in password if you have clicked suspicious links.
If you encounter unverifiable information, you can find the official customer service through official KuCoin APP for verification. At the same time, you can also enter https://cert.kucoin.com/ to verify the official channel.
If the user does not verify the website through the official channel and believes in the fraudulent information and causes property loss, KuCoin will not be liable for any compensation.
Thanks for your support!
The KuCoin Team
Curated by