Helium's (HNT-USD) ambitious plans to expand their network offerings beyond their low-data, low-power Internet of Things (IoT) network, dubbed "The People's Network", is in full swing, as they recently announced a partnership with T-Mobile for their 5G network, Helium Mobile. Will this be the next major shift in mobile technology since the iPhone? Let's dive in.
Laying the Groundwork: The Many Changes at Helium
Before we dive into the Helium/T-Mobile partnership, let's discuss the many moving pieces over at Nova Labs, the rebranded startup that operates all Helium networks with a mission to make it easier to build connective device networks. The highest level change is that Nova Labs is restructuring to become a "network of networks"; Helium started as a standalone blockchain powering the IoT, their flagship product that has shown incredible growth despite only being powerful enough to operate devices like trackers and sensors, but not powerful enough to operate mobile devices. The blockchain established a "proof of coverage" consensus mechanism, currently operated 3,500 validators and approaching 1,000,000 hotspots. This was a proof of concept that a decentralized connected device network, albeit a very simple version, could be applied to much border use cases like 5G, WiFi, VPN, etc. Thus, in order to scale they have established a "network of networks", run at the highest level by the Helium DAO network which will provide a high-level governance structure for each subDAO network.
The second major change is that Nova Labs has decided to assign tokens for each subDAO network. The flagship IoT network will utilize the IoT token while the 5G network will utilize the Mobile token. So what happens to the original HNT token? It will still exist as a reserve-style currency operating the network and will be held within each subDAO's treasury. IoT and Mobile token holders will be able to redeem their tokens for HNT from these respective treasuries, but this is a one-way street (HNT cannot be redeemed for either IoT or Mobile). There is currently no tradable market for IoT or Mobile tokens, which can only be earned by operating a hotspot on their respective networks. See image below for additional clarity on the new structure: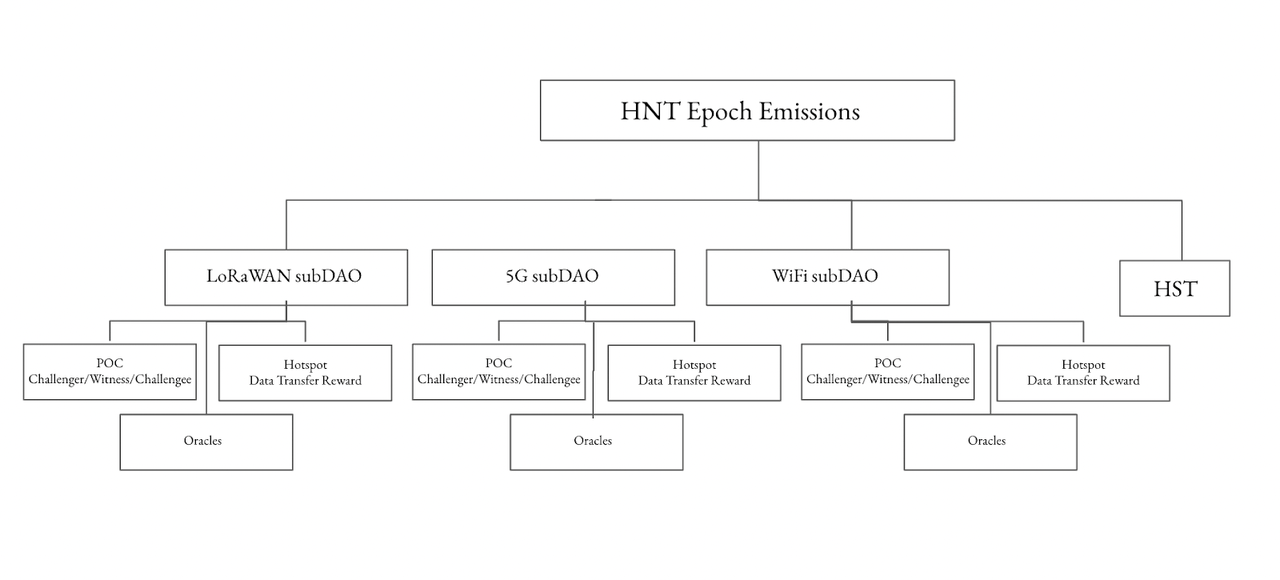 Helium's new DAO/subDAO Structure (Helium GitHub)
The third major change is the proposal to move the Helium networks from their standalone layer 1 blockchain to Solana (SOL-USD), which overwhelmingly passed on September 22nd. According to a blog post from the Helium Foundation, "Solana offers significant benefits to Helium that include, but are not limited to, scale, community, and composability. Proof-of-Coverage and Data Transfer Accounting will be moved to Oracles". This will scrap their novel "proof-of-coverage" technology that secured the Helium blockchain network, leveraging data oracles instead.
The Helium/T-Mobile Partnership
Nova Labs understood early that scaling a 5G network and competing directly against the likes of AT&T, Verizon, and T-Mobile would be difficult, to say the least. Unlike the very affordable hardware needs to operate the low data IoT network, a 5G network would require a significant investment from individual hotspot operators; current 5G hardware rigs are selling between $2,600 and $5,700. Instead, Nova Labs will leverage the T-Mobile network for all voice calls initially, while data transfers will leverage the Helium 5G network where available and the T-Mobile network where it lacks coverage. Over time, the hopes are that the Helium 5G coverage will replace the T-Mobile coverage and be able to handle a significant portion of voice calls and data. According to the Helium 5G website, plans for the lowest data plan of 1GB/month will cost users $5/month, but beyond that the pricing is still TBD.
Currently, Helium's 5G network has approximately 5,000+ node operators, growing over 60% in the last 30 days, all operating within the United States. You can see their IoT network and 5G network on their well-designed block explorer page.