Just when you thought we were finally headed into the future of flying cars and jetpacks we all imagined, we get sucked back into our old ways like ogling QR codes and live-stream shopping. Will we ever pull ourselves into the high-tech future we were promised as youths? We're still optimistic.

Even though the cars weren't flying this week, the news definitely was. This week:
CEO's cash in on bankruptcy
WhatsApp tries CS but struggles with it's own
Consumer shopping behaviors aren't changing anytime soon
MSCHF makes a $1000 t-shirt
Cookie-cutter website builders and the loss of originality
Ecommerce might be doing well, but fraud is thriving!
Live-streaming and shopping: Welcome to the future?

Retail CEO's cash in on bankruptcy
Over the last month, we've talked a lot about the fashion industry and the crumbling of brick-and-mortar giants like J.C. Penney, Brooks Brothers and J. Crew.
This month G-Star RAW, Lucky Brand and New York & Co. also waved the white flag and filed for Chapter 11.
Big buck bankruptcy
But, while many of these ailing department store and luxury brands are laying off thousands of employees and closing stores, top execs are doing just fine:
Just weeks after announcing it will close more than a quarter of its stores J.C. Penney plans to hand out a smooth $7.5MM in bonuses to a few executives. CEO, Jill Soltou is slated to get about $4.5MM.
Macy's announced last month that it would need to cut 25% of its corporate workforce (~3900 jobs). This week, we learned they already doled out $9MM in bonuses, with $3.7MM worth of sweet, sweet restricted stock for CEO, Jeff Gennette.
Not to be outdone however, Neiman Marcus was flagged by the U.S. Trustee's office for its plan to hand out more than $10MM in bonuses to a group of company execs. CEO, Geoffrey van Raemdonck would take home about $6MM.
View from the top
It's completely normal for CEO's and executives to collect massive bonuses, especially—and ironically—during turbulent times. Hell, they're the ones steering the ships right? But whether it's common or not, it always feels a bit weird. And it feels especially weird when it happens in a social climate where everything feels weird.
WhatsApp announces QR codes, users have other issues
Facebook-owned WhatsApp unveiled personalized QR codes to make customer communication easier for SMBs. When customers scan the codes with WhatsApp, a chat will automatically open with the desired company… innovation overload right there.
Good idea, snoozy tech
The world of customer support has been completely revolutionized several times over in the last decade (think AI, chat, chatbots, chat-something or other), so when WhatsApp hit the wire with their latest release… it basically felt like a 2002 throwback.
The QR hype continued on Twitter when they announced their new customer service feature. Instead of being met with cheers and roars, the feed quickly filled up with moans about blocked numbers, disabled accounts and unresponsive or poor customer service… oops.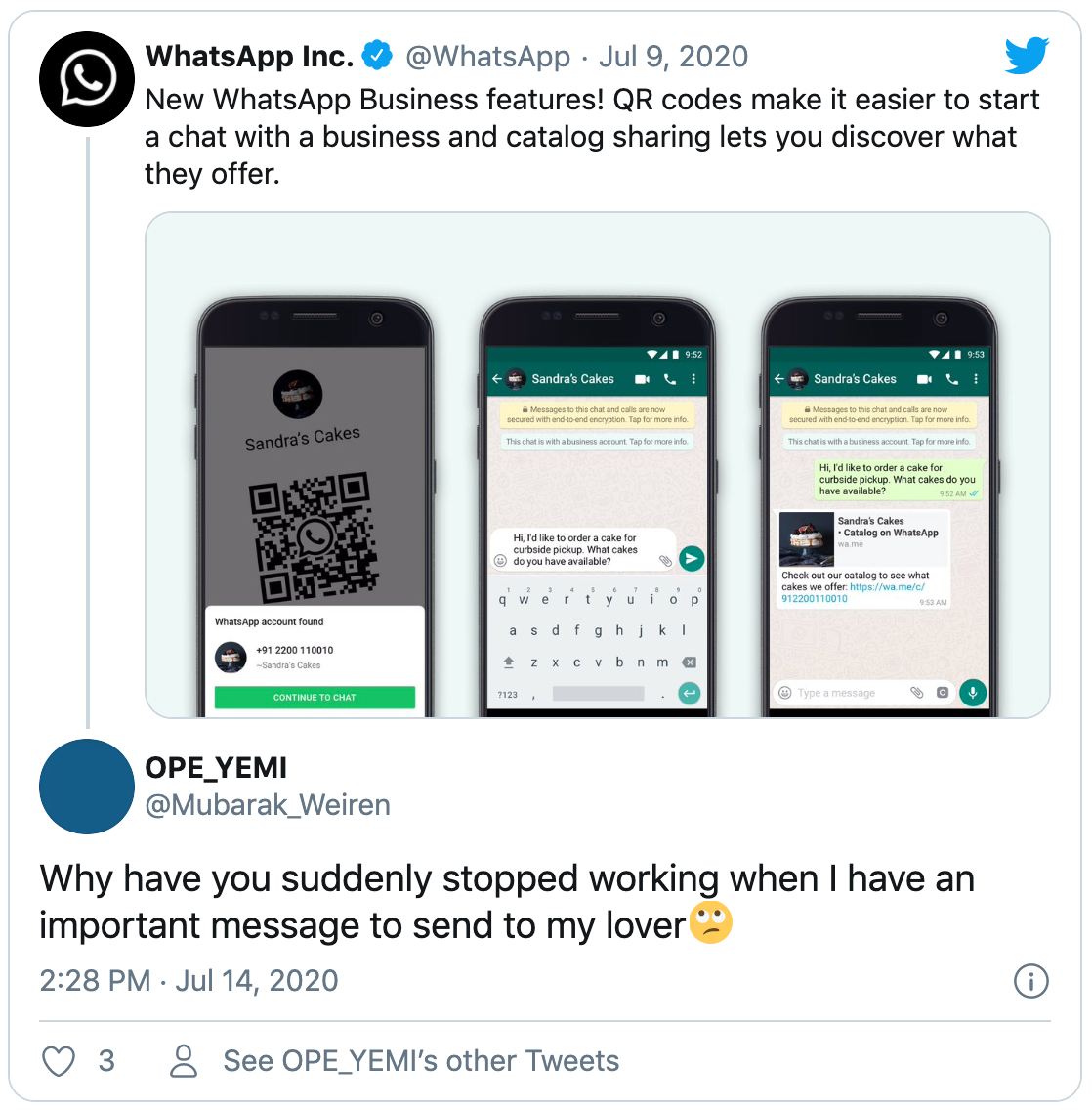 Zooming out
Alright we'll stop throwing shade. Because at the end of the day, WhatsApp is the worlds largest communication platform with over 1.5B users worldwide. So any attempt to use the platform to improve the shopping and customer experience is something we are obviously down with.
Will businesses bite and use WhatsApp QR codes and forego other chat products? In the US, where WhatsApp isn't as popular, it's tough to say. Internationally, where WhatsApp reigns, the QR codes could be a game-changer for SMB's.

COVID-induced shopping behavior is becoming more permanent
While brick-and-mortar retailers have been hit hard by Coronavirus, ecommerce has consistently made headway and is becoming more widely used by American consumers. Nothing new. But what is new is the research suggesting these changes are going to have lasting effects.
The latest report by Accenture found that consumers planned to increase their ecommerce shopping by 160% during the pandemic, while 52% said they would continue after the pandemic subsides.

Ch-ch-changes (turn and face the strange)

These changes signal a more permanent shift in consumer behavior and way of life, even looking beyond the strange current circumstances. Other changes noted in the report include the acceleration of the "buy local" trend, a cut on non-essential spending, and the success of some retailers' efforts to move in-person services to an online setting (such as makeup consultations).
As a shopping behavior continues to skew digital-first, it's never been more important to optimize each aspect of your online store. Snag some post-purchase tips here.

The brand we're obsessed with this week: MSCHF
Who they are
Brooklyn-based creative label MSCHF is a seven-person company that has a knack for virality.
What they do
They take ordinary things and completely transform them in a way that keeps everyone guessing. Products, games, content, everything they touch seems to make waves. Here's some highlights;
Why we love them
"Innovation" and "originality" are words that seem to be thrown around willy-nilly these days. But MSCHF is a great reminder that creativity and taking massive chances can pay off in a huge way.
Check out their past products and upcoming drops here.

The rise of drag-and-drop (and the fall of originality)
As the ecommerce economy grows, more fresh entrepreneurs will move to set up their own shops online. Some will look for the quickest route possible while others will look to create a premium shopping experience using more sophisticated systems. For those that want both, ecommerce platforms and plugins are helping to push drag-and-drop design solutions.
Shogun, for example, is a Shopify add-on that allows for a simple drag-and-drop design experience. BigCommerce recently released its page-builder with drag-and-drop functionality. And Wix's recent entry into ecommerce marks another major drag-and-drop store builder.
No code means little customization
While merchants are able to prop up a slick-lookin' store thanks to drag-and-drop, one catch is that the elements and templates they're using are also being used by thousands of others —including competitors. What they save in time and expenses could cost them brand differentiation in the end.
With over 20 million online stores floating around the internet today, standing out and creating unique experiences is key to longterm growth.

Ecommerce is growing, but so is digital fraud
Surprise, surprise. In the last few months, as online retail has seen market penetration and growth that would have taken years in a non-COVID world, digital fraud and content abuse has been booming, too.
While everybody has been working from home, cybercriminals have been working overtime, putting up an impressive 109% increase in digital fraud in Q2 2020 . The methods these criminals used were increasingly complex, for example, a scamming ring from Russia being discovered that used fake product listings on marketplaces to test credit cards.
What's the REAL virus here?!
Sift's study showed that Coronavirus and the ensuing lockdowns definitely played a role in the uptick in digital fraud. Two of the main industries used to scam consumers and businesses are cloud storage and online stores. Scammers use tools to skim credit card info as well as more simple tactics like text messages to create fear and rage (some saying that there is a vaccine being withheld or that they should stockpile resources).
The fraud supply chain
Oftentimes, cybercriminals use content abuse (fake listings, counterfeit content, etc.) to commit payment fraud. They also sell the stolen data on the dark web to other cybercriminals. By protecting your business against content abuse, the supply chain can cut off from the source.

Popshop Live raises money to help blend live-streaming and shopping
Remember when you would fall asleep watching TV, only to be awakened in the early morning hours by the sound of kitchen knives or soda makers being demoed in an infomercial? (It was always either that or the George Lopez show.)
Well, Popshop Live just raised $3 million to become the internet's QVC (which might be aggravating to QVC because they've been streaming on the web for years already). Popshop Live allows sellers to go live with their products and sell directly to viewers. They can answer questions, demo products, and interact with their viewers in real time.
In person, digitally
Something ecommerce has a hard time making up for versus traditional retail is the human interaction. With Popshop Live, sellers get access to a host of tools to make their live sales pitches as fun and interactive as possible with things like gamification and live chat.
Similar to how Shopify lets anybody become a business owner, Popshop Live lets anyone become a salesperson.
What do you think? Will live stream shopping catch on? Would you watch a Popshop Live show? Let us know!
More interesting stuff to fill all that time on your hands:
Any juicy news we missed?

Let us know at elle@route.com
Stories you want us to dig into deeper?

Send tips to elle@route.com
We'll be back with more news and insights next Friday!